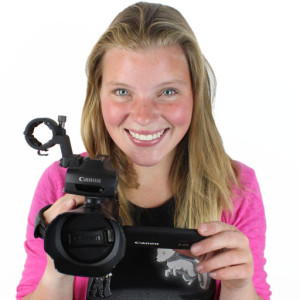 Hello everyone! My name is Katie Curtis.  I currently have myself, a camera, and a dream. *stares off into the distance*
Right. So I've classified myself as a video marketer, but that's for the sake of my elevator pitch. What I'm doing is shooting videos of small businesses, their owners, their employees, their events, and putting together complete videos for their use on Youtube, Facebook, Websites, Twitter, Vimeo and the like.
I do all sorts of stuff from montages, to stories, to voice overs, to talking heads, to documentary types, to whiteboard animations to whatever it is you're looking for as your Marketing strategy.
You would be my ideal client if you know that video and social media are the ways to publicize yourself and interact with many of your clients, however, you don't want to have to figure the video portion out yourself. (The editing, the intro, the music, the photos, the voice overlays, the angles, the sound, buying equipment, yada yada.)
I work in the Metro Detroit, Michigan area (Howell, Brighton, Hartland, Fenton, Novi, Ann Arbor etc) but do not mind traveling for shoots (I've had them in North Carolina, Colorado, Nevada, and New Jersey so far).
If you're interested and want to chat with me, shoot me an email – katie@inspiredvideomarketing.com.
Tschuss!