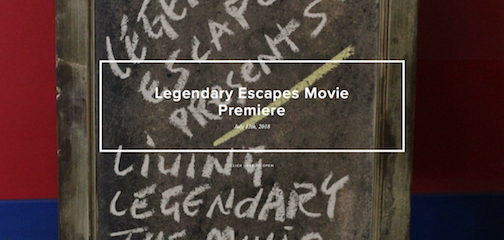 Living Legendary – the Pirate Pool Premiere recap
Two weeks ago brought a whirlwind of a day fraught with nerves and technological issues but also love and support.
Two weeks ago we had a Red Carpet Movie Premiere at the Historic Howell Theatre showcasing "Living Legendary: The Making of the Pirate Pool". Which happens to be a full-length feature that I created. (Wow, that sounds weird when I type it like that).
Let's just start with this: I am surrounded by freaking amazing people, doing kick-butt awesome things and sometimes their awesomeness leeches into me. Last summer I was able to help create and chronicle the making of a "legend" – in this case the Pirate Pool. My dad and his business partner, Sandi, through "Legendary Escapes", create backyard paradises fit for destination retreats, that just happen to be in one's backyard. These marvels are "Escapes" from the humdrum, worry-worry-worry of the "typical" day (movie spoiler: it DOESN'T have to be that way. Anywho.) into the realm of possibility, fantasy and magic that is "real life" if we allow it to be. The "Legendary Escapes" just happen to provide more easy conduits to finding that state of mind. Can you tell I drink the juice? 🙂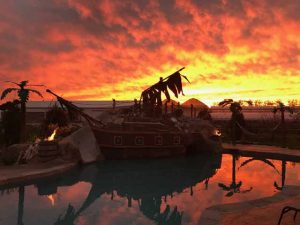 If you've followed me for any length of time, you've heard me talk about either working for, chronicling or editing videos for "Legendary Escapes" and "Living Legendary" the online series. I took everything I'd learned from all of the above, and smashed it together (well, I'd like to think there was a bit more finesse) into the Pirate Pool Movie, which we then premiered at a gorgeous theatre in downtown, Howell. This movie was partly a documentary, partly a showcase of reality, but, hopefully I've told the story properly, and it's fully a legendary tale.
Many people told me that what the movie was missing was some final thoughts from me, on creating it. And while I don't agree that the MOVIE needed any more of me in front of the camera, I can agree that putting down my thoughts might be worthwhile. Perhaps I will do so in the future? I'll definitely share what I learned!
But! Thankfully, I am blessed to have a beautiful and talented intern, Libby Cook, (follow her vlog here!) who put together a fun video about the Premiere including the thoughts of some of the attendees, those involved, herself and me. I'll stop blabbering and let Libby tell the story of the Pirate Pool Movie Premiere.
To watch the creation of the Pirate Pool in its entirety, the movie lives here!