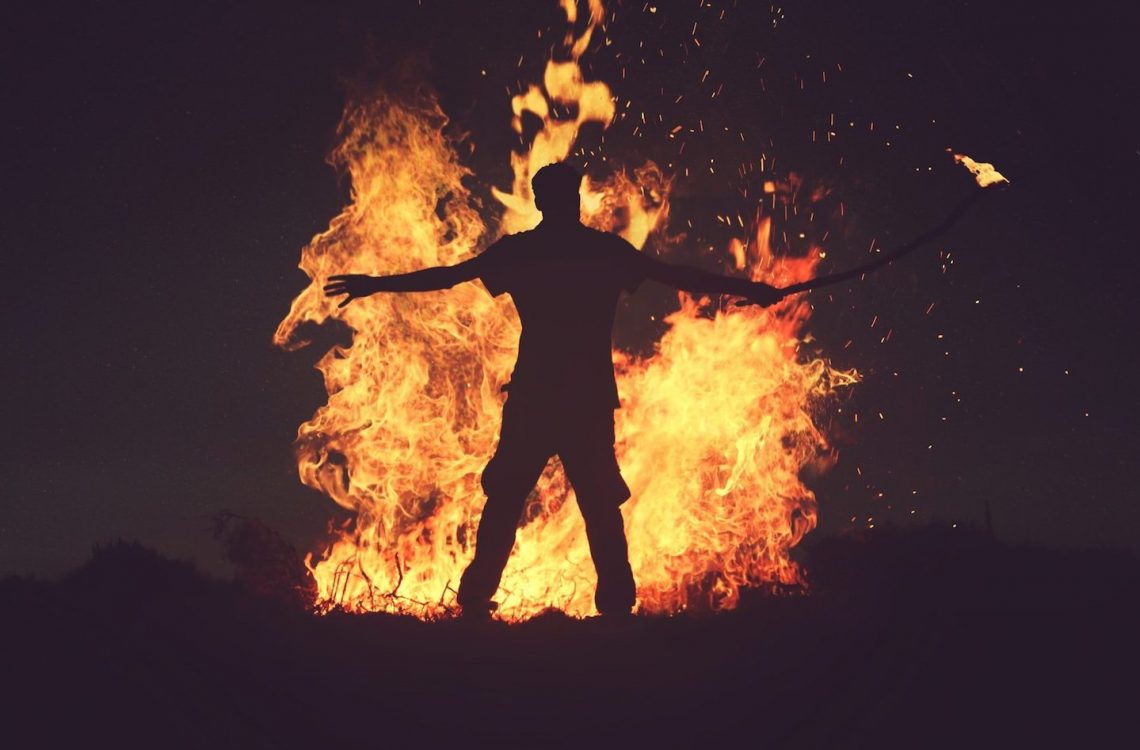 10 Resources to keep you "Inspired" in life and business
After a chat with a fun and quicky realtor James Bruney (if this doesn't feel quirky – just you wait. ;-P He's got some big ideas in store! )
We discussed many of the resources that inspire us – and I realized a lot of these people have become integral to my daily life – to staying motivated and to keep the "inspired" in "Inspired Video Marketing".
If you feel your life and your business struggling due to the affliction of unmotivation or stagnation, the best medicine is to pursue the knowledge that all of these greats have!
Without droning on too much, let's get to it.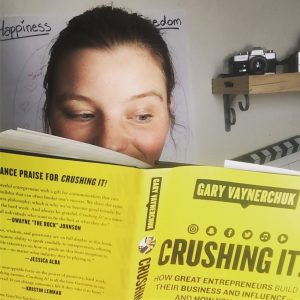 Because I'm reading this right now, this was the first thing that comes to mind and had me fired up.
In "Crushing It", Gary Vee shares his usual inspirational messages of Authenticity, Providing value and focus, but also is sharing the success stories of many other entrepreneurs. Many, who have become successful since the release (and purchase, for many) of his book "Crush it". (Yes, these books are different).
Sample bits of what to expect: "If you're earning what you need got live the life you want AND loving every day of it, you're crushing it."
"You will be a thousand times more successful if you wake up eager to share and create something because you believe the world will enjoy it rather than because you have calculated that this is what you need to do to become an Instagram celebrity."
"Why not try something new? Be optimistic, exhibit patience, shut your mouth, and execute."
I'm deliberately taking this book in slowly – to not devour it, but to sample and to digest all of the nuggets of wisdom. It doesn't matter in which format you consume Gary Lee content, it's always real and raw and inspiring. I imagine the audiobook of this will be epic, as it's pretty amazing as is AND Gary will be reading it himself.
For an easy dose of inspiration, try a dash of Gary Vee and "Crushing It".
While looking for a new podcast to jumpstart my mornings (while waiting for the dog to do her business, ahem) I found this one!
Much like Gary Vee in "Crushing It" Matty A interviews successful millionaire entrepreneurs.  Not only is it just interviewing, but Matt has a way of asking questions to get the interviewees to share the best of their information. As I said, I listen to this every morning and it gets me fired up to get out and win the day!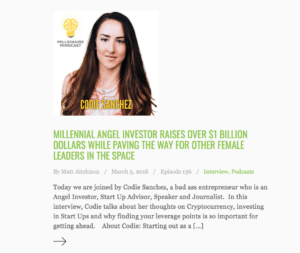 Conveniently enough, I was introduced to Codie through (above) Millionaire Mindcast. What a powerhouse! Not only is she a woman and Latina, she is kick-ass and in the financial space. That episode was my favorite, easily, of the the MM's I've listened to. So I visited her website, and come on! The first thing I see is "The struggle is NOT real". Heck yeah girl! We only make it a struggle. Clearly, her blog captures all of her spunk, her zest, her knowledge and her secrets to success.
(side note: Codie! I'd love to listen to you if YOU did a podcast!)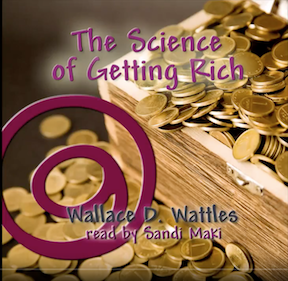 Classic! I was skeptical of this book when my dad first encouraged me to read it  – come on, it was written in 1910!- and it didn't mean that much to me the first couple times I read it/listened to it.
BUT!
Listen anyway. Read it anyway. Over and over.
Daily I find myself in situations where the power of that book is evident. Despite the book being only a 2 hour listen, something new stands out and is applicable to me each time.
I guarantee this will happen to you (or your money back. JK! It's free)
Side benefit, Sandi does a beautiful job of narrating it. She is both soothing and engaging.
Truth-time. You come to Uncle G when you realize you need to put on your big girl or your big boy pants and when the sugarcoating no longer cuts it because you're looking for tough love.
I recommend the audiobook version of this, because Grant reads it himself and his intonation and delivery are exactly what they need to be. It's more like you are having a conversation with a mentor who wants you to succeed, but also has seen you do some seriously dumb stuff. Only Grant would have a chapter called "Don't be a whiny bitch".
If you've been an ostrich with your head in the sand, you might need a dose of Grant Cardone.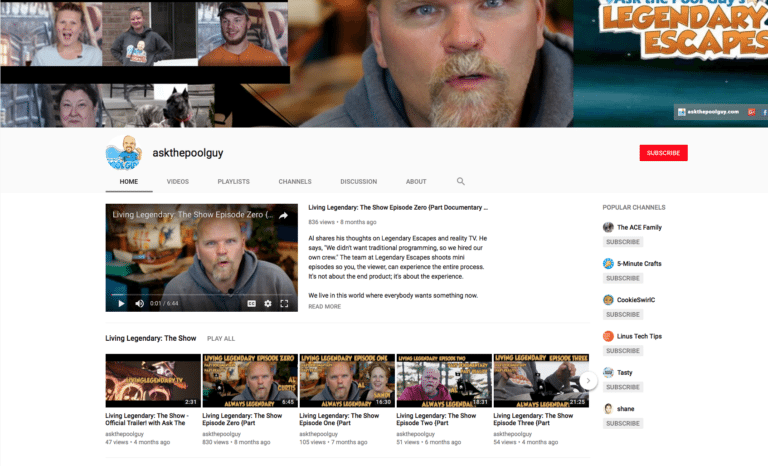 Sometimes you get a little tough love from the Pool Guy too, but mostly you get the constant reminder, over and over, that you need to be doing what you love, right here, right now. And you need to be doing that in the environment you love, with the people that you love. Yes, there are a lot of technical videos on this channel, but the philosophy videos and podcasts are so spot on. Plus the delivery is done with such passion and warmth and charisma. You can't not love Al the Pool Guy. And no, I'm not just saying that because he helped make me.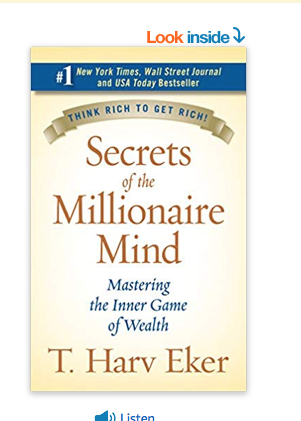 I have both read and listened to this book a combined 6 times. I feel like it's about that time to start again…
I love the audiobook – T. Harv Eker reads it himself (he is got such an interesting speaking style… not always to my taste but his enthusiasm and knowledge are on point), but I prefer the book-book because in each chapter he has action items and many homework type assignments that it's easier to re-visit those in a physical format. I also like visually seeing the the Wealth Files. Man, those changed my life. It's because of Harv that I've committed to being rich and successful. I'm going to die rich or I'm going to die trying. I would bet my life on it – I'm dying either way.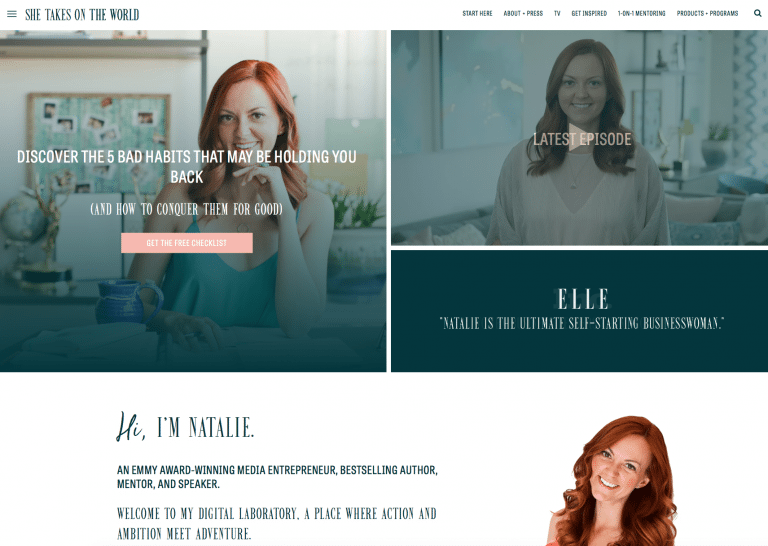 Natalie MacNeil is one of those people I aspire to be! Not only does she give advice on business, but she also focuses on all the aspects it takes to be successful. How to be healthy and be calm, how to navigate life's challenges… and I just really dig her style.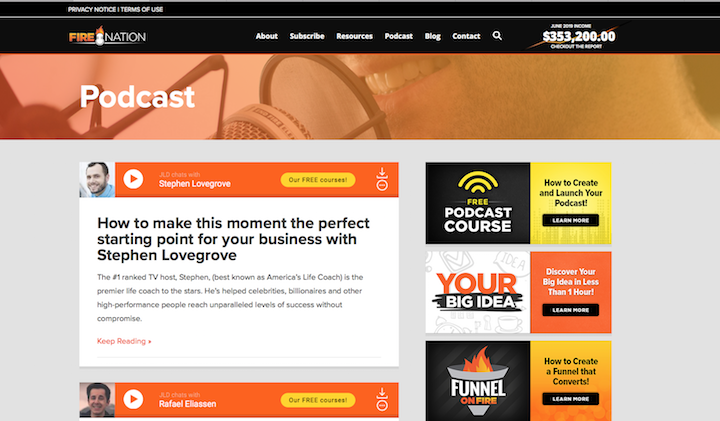 I love so much how JLD has created such a culture! He calls his followers the "Fire Nation" and allusions to fire are thrown in in every podcast. He follows the same format in each podcast – speaking to different successful people (like Matty A does) in around a 20 minute time period. BUT. Here's the kicker, he puts out a podcast EVERY. SINGLE. DAY. I think at this point he is nearing on 2,000. If you need repetition to learn something, you listen to this daily. The people he interviews have different stories but many of the same paths toward success. I love how he ends his podcasts too, "You become like the five people you hang around with the most, and you just spent time with (guest) and JLD."
This is the only one of the resources listed that isn't free, and it's a funny story about how I stumbled on this online course platform
(see the video)
. But wow!
The lessons in here! It is just so magical to be taught by some giants in the various industries. What is even more magical, is hearing these giants speak so philosophically about their craft. These lessons are not: Do X. Then do Y. Then do Z. (Well, maybe the cooking ones are) but the suggestions are all about feelings and emotions and experiences. Many don't even have "classical training". It's just so humbling and inspiring how far these people have come and the le
 Keep inspiring, and being inspired, my peeps!
Katie
I said 10, but I'm lying because I'm throwing some other great stuff in here.
The Ziglar Show : PODCAST
– Love this one as well. Is it just me, or does anyone hear Matthew McConaughey when Zig Ziglar speaks? Or vice versa?
SaveSave
SaveSave
SaveSave
SaveSave
SaveSave